Need an Irish Shamrock Template?
If you need a shamrock template to help you get ready for St. Patrick's Day, an Irish celebration or party, then these should serve your purpose. If you have some green paper to print to, then choose from the black and white templates. If not, and you have a color printer, you can just print the green ones.
Click on shamrock template thumbnails below for full pdf file
Approx sizes
Black and White
Green

3.5 x 3.5inches

9cm x 9cm


(4 per page)

4.75 x 4.75inches


12cm x 12cm

(2 per page)

7 x 7 inches

18cm x 18cm


(1 per page)

7 x 7 inches

18cm x 18cm


(1 per page)

Shamrock with St Patrick's Day wish -->
Note on Irish Harp Symbol

Official Irish Harp Symbol
The shamrock is by far the most popular symbol of Ireland although the Irish harp is the official symbol of Ireland. It appears on all government documents and on Irish minted euro coins.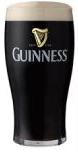 GUINNESS®
Irish Harp symbol
Ireland's most famous drink, GUINNESS® , also has the Irish harp on it. Apparently Arthur Guinness, Dublin's finest brewer, chose the Irish harp to appeal to Irish nationalism. It is one part of the Guinness trademark since 1862 (the other two parts are the Guinness word and Arthur Guinness' signature.)
When the Irish State was founded in 1922, in order to distinguish the Irish harp they chose from that associated with GUINNESS®, they turned the harp in the opposite direction!
Pages related to Shamrock Template
Find out about the origin of the shamrock on our Shamrock symbol page.
We also have a special St. Patrick's Day Shamrock colouring page for the kids.