Gaelic Matters
> Gaelic Names
Gaelic names and their meaning
Irish Gaelic names are not only still popular at home in Ireland, but are also particularly popular among the Irish diaspora abroad. Names are a great cultural identifier and, in an increasingly globalized world, when parents choose a name for their babies, they are making a small statement about how they see themselves and their family.
Choosing a Gaelic name can be a way of saying 'I am proud of my Irish heritage and I value its uniqueness and difference'.
Names fluctuate in popularity and it seems strange that in the current top Gaelic Boys Names and Gaelic Girls names lists that there is no Séamus, Brendan or Úna . However, fashions change from one year to the next and I am pretty confident such names will be fashionable once more.
So in order to address the omissions of the current Gaelic baby names lists mentioned above, I have put together another list of common and personal favourite Gaelic names below. I have also included some famous Irish people who bear the Gaelic name.
I have relied heavily on Diarmaid Ó Muirithe's great book A-Z of Irish Names for Children and their meanings in making my selection. I would love to hear your own suggestions for inclusion also.
Irish Names Boys
Irish Names Girls
Current Most Popular Gaelic Boys Names (different page)
Current Most Popular Gaelic Girls Names (different page)
Gaelic Names for Boys

Explanation/ Meaning of Gaelic name

This ancient gaelic name was really common once and is still more common in Northern Irish families. The English version of the name is Hugh, and Red Hugh O Donnell (Aodh O Donnell) was one of the great Donegal chieftains.

Originally meaning 'bear', it was meant to signify 'winner' or 'champion'. It is not a Gaelic version of the name Arthur. Art Corb was a legendery King who bore the name.

Also exists in the form Bréanainn but not at all common. The English version Brendan is used widely. St Brendan was the monk made famous by his navigation adventures from Ireland in the 6th century. Legends exist of him saying mass on the back of a whale, Though this is not true,it is quite possible that stories of meeting icebergs and volcanoes did actually happen.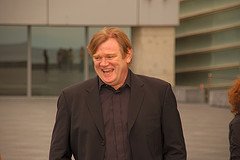 The actor Brendan Gleeson is one of Ireland's best known an loved actors. He has had main roles in Braveheart, Gangs of New York, In Bruges, 28 Days Later and the Harry Potter films. One of my own favorites is a small budget movie called I Went Down in which he plays an unsuccessful Irish gangster. Very funny.

Though not certain, this may be from the Celtic name Brigonos, meaning noble. Known as the last High King of Ireland, Brian Boru, was the famous bearer of this name. He died at the Battle of Clontarf, just north of Dublin city in 1014. Sometimes spelt as Bryan.

Another ancient Gaelic name which means fierce in battle. It was a name held by many Irish kings during the Viking period. Cearbhall Ó Dálaign was Ireland's fifth president. He died in 1978.

Yet another anicent name, Conall means strong as a wolf. It is also common in the north of Ireland. Conall Golban, an ancestor of the O Donnell family, gave his name to Tír Chonaill (now County Donegal)

This name may be related to the Gaelic word 'ceann', meaning head or chief. Or it may mean wisdom or intelligence. Conn of the Hundred Battles bears the name.

This is commonly given as the Gaelic version of the name David. Daithí was a King in the 5th Century, a fierce fighter, who led raids to Scotland.

Déaglán established a monastery in Ardmore, Co Waterford, in the 5th Century around the time of St Patrick, and is associated with many miracles. The English version of this Gaelic name is Declan.

This old Gaelic name is very much associated with Diarmaid Ó Duibhne, the great lover in the story The Pursuit of Diarmaid and Gráinne. This legendery tale of jealousy and passion among members of the warrior band the Fianna, is full of passion, magic and humour. Dermot is the English version of the name.

Also seen as Domhnall. This was a popular name among Irish High Kings. Domhnall Ó Conaill (Daniel O Connell), Ireland's great 19th Century politician, known as The Liberator is the bearer of this name. He proudly boasted that he 'could drive a coach and four horses' through any law that the English made.

Donn-ah-cha
(ch as in loch, not church)

Also exists in the forms Donncha or Donnchad, this Gaelic name is often translated to English as Donagh or Dennis. Its Scottish form is Duncan. It was a popular name among families in the south of Ireland.

This is really a Gaelic version of the English name Edmond. The name was brought to Ireland by the Normans. In the17th Century, it was a common name for robbers and scoundrels!

This Gaelic name comes from the Gaelic word finn, meaning fair. It is the name of two saints of significance, Finnian of Clonard in County Meath and Finnian of Moville in County Down.

This was a very popular name in medieval times and many saints bear this name. The great 20th Century Irish writer and humorist, Brian Ó Nualláin, used the name Flann O Brien as one of his nom de plumes (as well as Myles na Gopaleen)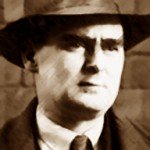 "The majority of the members of the Irish parliament are professional politicians, in the sense that otherwise they would not be given jobs minding mice at crossroads."
Flann O'Brien 1911-1966
This gaelic name also exists as Iarlaith. Was the name of a sixth-century saint in County Galway. Was famed as a great teacher.

This is really an Irish version of the name Peter but is quite common still.

This name also exists as Ruán and Ruadán and means little red one. There are a number of legends and stories associated with St Ruadán who founded a monastery at Lorrha.

This is the popular version of Irish version of James. Séamas is another and probably more correct version of the name

Séamus Heaney is Ireland's most recent Nobel Prize winner, achieving the honor in 1995. One of the great modern poets, here is a video of him reading one of his best loved poems Digging

This name is now more common in its English form Ultan (pronounced Ul-tan) . It is the name of a much loved 6th Century saint, Ultán moccu Conchobhair of Arbraccan in County Meath.

Gaelic Names for Girls

Explanation/ Meaning of Gaelic name

This exotic Gaelic name also exists as Afreeca and means charming or nice.It is also found in Scotland and the Isle of Man. The most famous Aifric was the daughter of Godred, King of Man in the 12th Century.

This name comes from the Gaelic word for flower bláth and exists aslo as Bláthnait. She was the lover of the legendary Cúchulainn.

There are many versions of this name. Brighid, Brigit, Brigid, Bridget, Breed and Breege are all variations. Today Saint Brigid is the most important saint in Ireland, second only to Saint Patrick. She set up her famous monastery in County Kildare in the 7th Century. Her feast day is 1 February and it is still traditional to make a Cros Bhríde (St Brigid's Cross) from rushes or straw to ensure good health and good fortune for the coming year.

This name is really of the same origin as Caitlín, while Tríona and Cáit are also popular versions. English versions exist as Kathleen, Kitty and Kay.

Clíodhna is reputed to be a member of the legendary band the Tuatha Dé Danann who eloped from the Land of Promise with a man called Ciabhán. The name is also common as Clíona.

Also exists as Dearbhla and in English as Dervilla and Dervla. She was a saint in the 6th century though little is known about her.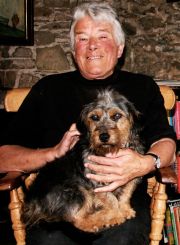 Dervla Murphy is an Irish travel writer of more than 40 books. She has gone. Known for her magnificent sense of adventure, her books include Full Tilt: Ireland to India With a Bicycle, In Ethiopia with a Mule and Muddling through in Madagascar.

Always a popular Gaelic name for girls, the origin of Deirdre is disputed but may mean 'chatterer'. Legend says that before she was born, it was predicted she would be the most beautiful woman in Ireland but would be the source of great trouble and strife! Often incorrectly pronounced in English as Deer-dree or Dee-dree.

This name comes from Étaín. While she may have been a sun goddess, it is likely that the name is derived from the Gaelic word for jealousy éad. She was meant to be the most beautiful of women. The English version of the name is Aideen.

The most common Anglicized form of this name is Eileen, made more famous in the catchy 70's pop song Come on Eileen. The bh in Irish Gaelic is pronounced as a v which has led to English versions of this name as Evelyn or Eveleen but Aileen is also common. The origin of Éibhlín is from the Anglo-Norman name Aveline.

Eithne of the mother of the god Lug. Conn of a Hundred battles, Cúchulainn, and Cormac Mar Airt all had wives called Eithne, The name has been anglicized commonly as Ethna or Enda.

This name is also shortened as Nuala and means fair-shouldered. Finola is another version of the name. Has been very popular since the middle-ages.

This exotic sounding Gaelic name for girls means flame of wine. It was a common name in the middle-ages and Lasairfhíona was the daughter of King Cathal Crobhdearg, 'Cathal Mór of the Wine-red hand'. English versions of the name exist as Lasrina and Lassrina.

Lasairfhíona Ní Chonaola, is an Irish singer/songwriter from Inis Oírr, one of the Aran Islands. She sings in a traditional style known as sean-nós. Here she is singing a popular Irish Gaelic song, Bean Pháidín

This is the Gaelic form of the name Margaret and has always been quite popular in Ireland.

Mairéad Ní Mhaonaigh is an Irish fiddler and the lead singer for the Irish traditional group, Altan. She is one of the most popular figures on the Irish traditonal scene.
Here she is singing Tá mo chleamhnas déanta (My match has been made)
This Gaelic name may mean white like the sea or beautiful like the sea. Four abbesses in County Kildare have been called Muireann and it remains popular.

This is the Irish equivalent of the English name Peggy or Peg which both come from the name Margaret. There is a certain warm informality about the name.

This ancient Gaelic name means 'noble princess'

This is an Irish version of the French name Isabel. Was very popular among Anglo-Normans who introduced it to Ireland.

This traditional Gaelic name has been popular in Ireland for centuries. It has been anglicized to Oona or Oonagh, probably unnecessarily. There is a beautiful love song called Úna Bhán.

This has always been a really popular Gaelic girl's name and comes from the Anglo-Norman Jehanne. Sometimes anglicized as Shevaun.

Sur-eh-chah
(ch as inloch not church)

Meaning 'bright', this is also another common Gaelic name. Translated commonly and incorrectly to English as Sarah or Sally.

Pages Related to Gaelic Names

Every year the Central Statistics office put together figures of the most popular names in Ireland. Many of these are Gaelic in origin. If you haven't already clicked on the links above, make sure to check them out.
Most Popular Gaelic Boys Names
Most Popular Gaelic Girls Names
---
Gaelic Matters
> Gaelic Names
---