Gaelic Matters
> Irish Round Towers
Irish Round Towers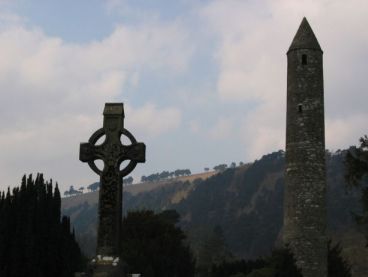 One one of the most famous - St Kevin's Round Tower, Glendalough
-photo courtesy of fwiffo
Irish Round Towers are a striking and impressive Gaelic symbol, a real favourite on postcards. But just what were the round towers of Ireland used for? Why were they so tall and thin?
History of Irish Round Towers

A Kilkenny Round tower
-photo courtesy of jmcdermott.ie
These tall thin towers are called or cloigthithe in Irish Gaelic (cloigtheach in singular) which means 'bell houses'. Interestingly, the irish word for clock(clog) is the same as the word for a bell. Why ? Because the monasteries formally measured the passing of time using bells.
While round towers were used for bell ringing, like other symbols of Ireland such as Sheela na Gigs, there is no united agreement on their full purpose.
The bell towers were built generally with four windows towards the top which allowed for bell ringing in each direction. Because the towers were built around the 10th Century, during a period of Viking attacks, most people believe that they were also used for protection. The only way to get up to the upper doors is with a ladder, so they could have been used to store valuables.
However, round towers are between 21-38m (70-120 feet) in height, probably higher than would be needed to keep the Vikings out. Not only that, by the 10th century the number of Viking attacks would have been falling.
The explanation may be simpler. round towers were built besides monasteries or churches, so they may be just a way of saying to people and travellers in the area 'Here we are', a landmark as it were.
Along with high crosses, the round towers of Ireland are the most distinctive architectural feature or Irish monasteries. There are a couple of round towers also in Scotland which were probably built to imitate what was happening in Ireland.
During the 19th century and the growth of the Gaelic Revival movement, nationalists adopted the Irish round tower as a symbol of our Gaelic heritage.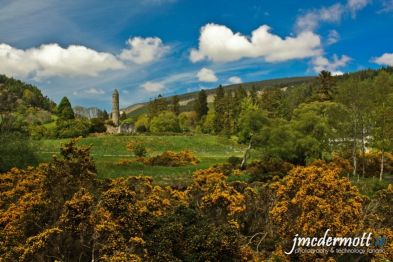 Another Kilkenny Round tower
-photo courtesy of jmcdermott.ie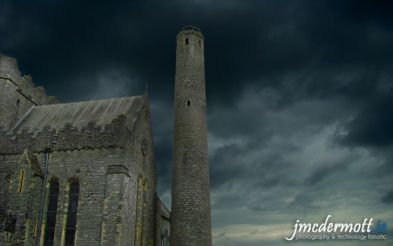 Round Tower
-photo courtesy of jmcdermott.ie
Aerial view of Glendalough Round tower
-photo courtesy of gmc
Pages Related to Round Towers

Irish round towers are a favourite Irish or Gaelic Symbol. There are many others. Check out the following pages.
The Legend of the Irish Shamrock
The Meaning of the Celtic Cross and Celtic Cross Images
The sexually provocative Sheela na Gig
---
Gaelic Matters
> Irish Round Towers
---