Gaelic Matters
> Learn Irish Language
Learn Irish Language - Tips and Suggestions to get started
If you want to learn the Irish language or Irish Gaelic as it known around the world (called simply Irish at home), finding a good system to learn can be difficult. But if you want to learn how to speak Gaelic in a relatively pain-free way, then I am confident you will find the suggested programmes and resources below useful.
But first have a look at these pages to help you get started
Basic Irish Word list
Irish Gaelic Phrases and Expressions
My experience comes as a teacher of English and Spanish and as an Irish language learner. Though Irish, I have had to put in plenty of work to learn how to speak Irish reasonably. I am still not totally fluent. But I have attended and organised enough language courses to know what works and what doesn't.
For years the learning of Irish has been cursed by poor teaching methods and resources. I can recall several less than enjoyable attempts to learn the Gaelic language in miserable, cold and uncomfortable community halls at the hands of teachers whose life mission is to get you to use the genitive case or learn 2000 seanfhocaiI (Irish sayings) to the exclusion of all the other wonderful things you could be learning.
However, in recent years Irish Gaelic teaching has improved and there are some great Irish language teachers and an increasing number of terrific courses, both online Irish courses and classroom based programmes.
I don't have affiliations with any of the programmes below (at least not at the moment!). However, I do know some of the key individuals involved as the Irish language learning scene is pretty small. That said, I am making my recommendations based on my experience as a student of Irish. I believe the programmes and resources below to be among the best if you want to learn to speak the Irish language properly.
I would encourage you to contact me if you feel I should include others. All links below will open a new window.
How to speak Gaelic - the holiday way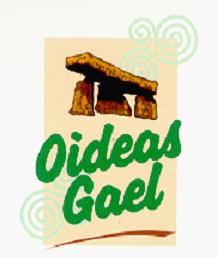 I have attended Oideas Gael residential Gaelic courses in Glencolmcille, Co Donegal at least 3-4 times over the years. I have loved them. I learned loads, had great craic (fun) and was wowed by the spectacular location.
The classes go from beginners level to proficiency. The teachers are all experienced, enthusiastic and generally young.
The courses can be combined with other activities such as hillwalking, Irish dancing, painting and photography and there are a variety of accommodation options.
Socially, people attending the courses really learn to speak Gaelic in a natural way chatting to each other in restaurants, on the road or in the pub. The atmosphere is warm and relaxed but the organisation is professional.
The only slight drawback is that the number of other local native speakers in Glencolmcille is quite low but you will find that people are very friendly and helpful, and most will speak whatever Gaelic they know.
Learn Irish Gaelic in Glencolmcille,
Co Donegal -courtesy of julia gillen
If you are travelling to Ireland for a couple of weeks and want to learn the Irish language, I would highly recommend booking an Oideas Gael course for a week. You will have an unbeatable cultural experience and will have learned how to speak Gaelic better by the end. More importantly your passion for the language will be ignited.
If you're Irish and want to have a real positive experience of learning Irish, then give it a try. It's completely different to the way they taught us in school- thankfully.
Online Irish Language Course

I have been searching around for a good way to learn to speak Gaelic online or using your computer. Some of the methods involve downloading software and many I just couldn't get to work (am probably just impatient).
So I have had a look at Ranganna.com (means 'classes' or 'courses' in Irish) which is the most impressive online Irish course I have seen to date.
By giving an email address you can sample the courses easily,there is no software to download and the sound files load pretty quickly. They claim the courses include about 60-75 hours of tuition which is pretty good value for €145. However, as I have only taken a free trial, I don't know if the claim is accurate.
Éamonn Ó Dónaill, one of Ireland's most prominent Gaelic teachers and course writers in Ireland is behind Ranganna.com with his company Gaelchultúr (see below), so I can only expect the quality to be good.
One disadvantage I see at the moment is that they begin at a lower intermediate level. A complete beginners course would be a great addition. I'm sure it will come in time.
Irish Language Classes in Dublin

Gaelchultur.com is a Dublin based organisation which offers Irish Language classes around the country. As well as Ranganna.com, Éamonn Ó Dónaill is one of the key individuals behind Gaelchultúr and has been important in promoting more modern teaching methods of Gaelic in Ireland. I have heard lots of positive feedback about the teachers at Gaelchultúr, so I am not surprised that it's popularity is growing.
The courses happen throughout the year and unfortunately you do need to be in Ireland to attend.
Learn Irish Language Classes all over the world

There are many universities with Celtic Studies programmes which offer Irish Gaelic classes but if you would like something less formal you could contact Conradh na Gaeilge. They organise classes and have branches in different parts of the world, so you may be lucky enough to learn of somebody offering classes in your area. While worth trying, the quality of teaching can vary from place to place.

Other Free Learn Irish Gaelic Online Resources

If you are going to learn Irish Gaelic online, you want something that's easy to use and hopefully free or cheap. I, and I expect most people, don't have the patience for anything that's not relatively convenient. So I have been very selective in taking just a couple of online learn resources that I feel are useful.

BBC

| | |
| --- | --- |
| | Giota Beag is the name of a series produced by the BBC. The link will take you straight to Lesson 1 |
How much Irish Gaelic do you know?

At Ranganna.com you can test your level of Irish. It's really easy to use. On a recent test drive, it graded me as an Advanced Level 1 result -seem to be stuck there now for some time. Obviously must try harder!

TEG-European Certificate in Irish

TEG (Teastas Eorpach na Gaeilge) is an examination system for adult learners of Irish that is linked to the Common European Framework of Reference for Languages (Council of Europe, 2001). Examinations test the four skills: Speaking, Listening Comprehension, Reading Comprehension and Writing. Examinations are currently available at five levels from Absolute Beginners (A1) to Advanced 1 (C1). A further level, Advanced 2 (C2), is in the process of development.
The TEG website has a number of useful resources and if you need the objective of passing exams to keep you focused on learning the Irish language, then you should check the site out.
Pages related to Learn Irish Language

If you want to know how to speak Gaelic you can get started with the following pages from GaelicMatters.
Some basic Irish words
Irish Gaelic Phrases and Expressions
Find out more about the Irish Language on our FAQ page and the other Celtic Languages by clicking on the links.
---
Gaelic Matters
> Learn Irish Language
---