Gaelic Matters
> Irish Wedding Poems
Irish Wedding Poems
If you've been wading through poetry websites and books looking for suitable Irish wedding poems for the big day, then you have come to the right place. Below is a suitable collection of Celtic themed and Irish love poems and songs which should be right for most wedding ceremonies.
While I recommend you have a look at our other Irish love poem page as well, the poems below should please almost everybody. And by the way make sure to check out our links to wedding sayings, toasts and blessings at the end of the page.
I have taken them from a range of sources but I recommend a nice little book of Irish love poems called Red is the Rose (2010) from O' Brien Press.

Irish Wedding Poems
The Lark in The Clear Air
Traditional
Dear thoughts are in my mind  
And my soul soars enchanted,  
As I hear the sweet lark sing  
In the clear air of the day.  
For a tender beaming smile  
To my hope has been granted,  
And tomorrow she shall hear  
All my fond heart would say.
I shall tell her all my love, 
All my soul's adoration, 
And I think she will hear 
And will not say me nay. 
It is this that gives my soul 
All its joyous elation, 
As I hear the sweet lark sing 
In the clear air of the day.

He Wishes for the Cloths of Heaven
by W.B. Yeats
Had I the heaven's embroidered cloths,
Enwrought with golden and silver light,
The blue and the dim and the dark cloths
Of night and light and the half-light,
I would spread the cloths under your feet:
But I, being poor, have only my dreams;
I have spread my dreams under your feet;
Tread softly because you tread on my dreams.
Had I a Golden Pound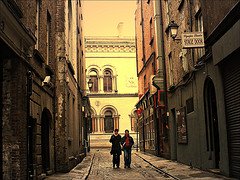 -photo courtesy of ugg boy
by Francis Ledwidge

Had I a golden pound to spend.
My love should mend and sew no more.
And I would buy her a little quern*,
Easy to turn at the kitchen floor
And for her wondrous curtains white,
With birds in flight and flowers in bloom,
To face with pride the road to town,
And mellow down her sunlit room
And with the sliver change we'd prove
The truth of Love to life's own end,
With hearts the year could but embolden,
Had I a golden pound to spend.
* A quern is a little hand mill for grinding corn

Oh, Call it by Some Better Name
by Thomas Moore
Oh, call it by some better name,
For Friendship sounds too cold,
While Love is now a worldly flame,
Whose shrine must be of gold:
And Passion, like the sun at noon,
That burns o'er all he sees,
Awhile as warm will set as soon--
Then call it none of these.
Imagine something purer far,
More free from stain of clay
Than Friendship, Love, or Passion are,
Yet human, still as they:
And if thy lip, for love like this,
No mortal word can frame,
Go, ask of angels what it is,
And call it by that name!
She Moved Through The Fair
Traditional
(This Irish wedding poem is also
a popular and traditional wedding song)
My young love said to me,
My mother won't mind
And my father won't slight you
For your lack of kine.
And she laid her hand on me
And this she did say:
It will not be long, Love,
Till our wedding day.

-'She moved through the fair'
Irish wedding Song
also sung by Cara Dillon
As she stepped away from me
And she moved through the fair
And fondly I watched her
Move here and move there.
And then she made her way homeward,
With one star awake,
As the swan in the evening
Moved over the lake.
The people were saying,
No two e'er were wed
But one had a sorrow
That never was said.
And I smiled as she passed
With her goods and her gear,
And that was the last
That I saw of my dear.
Last night she came to me,
My dead love came in.
So softly she came
That her feet made no din.
As she laid her hand on me,
And this she did say:
It will not be long, love,
'Til our wedding day.
Beloved
Another beautiful Irish wedding poem by Francis Ledwidge
Nothing but sweet music wakes
My Beloved, my Beloved.
Sleeping by the blue lakes,
My own Beloved!
"Sing in morning's rosy bush" Irish wedding poems-photo by Patrick Pearse
Song of lark and song of thrush,
My Beloved! my Beloved!
Sing in morning's rosy bush,
My own Beloved!
When your eyes dawn blue and clear,
My Beloved! my Beloved!
You will find me waiting here,
My own Beloved!
My Lagan Love
And often when the beetle's horn
Has lulled the eye to sleep,
I slip into her shieling lorn
And through the doorway creep.
There on the cricket's singing stone
She makes the bogwood fire.
Then comes that soft sweet undertone,
The song of heart's desire.
Her welcome, like her love for me,
Is from her heart within:
Her warm kiss is felicity
That knows no taint of sin.
And, when I stir my foot to go,
'Tis leaving Love and light
To feel the wind of longing blow
From out the dark of night.
Dear Dark Head
Translated by Sir Samuel Ferguson
Put your head, darling, darling, darling, 
Your darling black head my heart above; 
Oh, mouth of honey, with the thyme for fragrance, 
Who with heart in breast could deny you love? 

Oh, many and many a young girl for me is pining, 
Letting her locks of gold to the cold wind free, 
For me, the foremost of our gay young fellows; 
But I'd leave a hundred, pure love, for thee! 

Then put your head, darling, darling, darling, 
Your darling black head my heart above; 10
Oh, mouth of honey, with the thyme for fragrance, 
Who, with heart in breast, could deny you love? 
Do You Remember that Night?
Translated by Eugene O' Curry
Do you remember that night 
That you were at the window, 
With neither hat nor gloves, 
Nor coat to shelter you; 
I reached out my hand to you, 
And you ardently grasped it, 
And I remained in converse with you 
Until the lark began to sing? 

Do you remember that night 
That you and I were 
At the foot of the rowan tree, 
And the night drifting snow; 
Your head on my breast, 
And your pipe sweetly playing? 
I little thought that night 
Our ties of love would ever loosen. 
O beloved of my inmost heart, 
Come some night, and soon, 
When my people are at rest, 
That we may talk together; 
My arms shall encircle you, 
While I relate my sad tale 
That it is your pleasant, soft converse 
That has deprived me of heaven. 

The fire is unraked, 
The light extinguished, 
The key under the door, 
And do you softly draw it. 
My mother is asleep, 
And I am quite awake;
My fortune is in my hand, 
And I am ready to go with you.

The Heart of the Wood
This old  anonymous poem translated from Gaelic is another beautiful Irish wedding poem
My hope and my love, 
we will go for a while into the wood, 
scattering the dew, 
where we will see the trout, 
we will see the blackbird on its nest;
the deer and the buck calling,
the little bird that is sweetest singing on the branches;
the cuckoo on the top of the fresh green;
and death will never come near us for ever in the sweet wood.
No Sickness Worse than Love
Anonymous 
This 15/16th old Gaelic poem makes a very intimate Irish wedding poem.
No sickness worse than secret love
It's long, alas, since I pondered that
No more delay; I now confess
my secret love, so slight and slim
I gave a love that I can't conceal
to her hooded hair, her shy intent
her narrow brows, her blue-green eyes
her even teeth and aspect soft
I gave as well - and so declare-
my soul's love to her soft throat
her lovely voice, delicious lips
snowy bosom, pointed breast
And may not overlook, alas,
my cloud-hid love for her body bright
her trim straight foot, her slender sole,
her languid laugh, her timid hand
Allow there was never known before
such a love as mine for her
there lives not, never did, nor will,
one who more gravely stole my love
Do not torment me, lady
Let our purposes agree
You are my spouse on this Fair Plain
so let us embrace
Pages related to Irish Wedding Poems
If you haven't already, you should have a look at our Irish love poems page, not all suitable for a wedding ceremony but fantastic nonetheless, all wonderfully translated from Gaelic.
Pop the question in a Celtic way. Wonderful selection of quality celtic knot wedding and engagement rings right here. Just click on the links.

If interested in the general love theme take a look at our Irish Wedding Toast and Irish Wedding Blessings pages where you will finds lots on a matrimonial theme.
There are also lots of words of wisdom on the topic of love on our Irish love sayings page and you will find some different and humourous Irish love sayings on our Funny Irish Sayings page.
Find out about Irish wedding customs and traditions and visit our wedding superstitions page for some far-fetched beliefs.
---
Gaelic Matters
> Irish Wedding Poems
---