Gaelic Matters
> Celtic Cross Images
Celtic Cross Images, Pictures and Patterns
I've put together a collection of different types of Celtic cross images, pictures and patterns which includes High crosses (standing crosses) and Memorial crosses. These pictures are mostly from Gaelic Ireland and Scotland. Where possible, I try to give location and other details.
Celtic Cross Images - Scottish and Irish High Crosses

The Celtic cross photos below are the real deal. These crosses date from about 750AD-1150AD. There are different types of high crosses, some quite plain with few patterns, others with elaborate Celtic designs and patterns and others still which have designs and patterns based around scenes from the Bible- what we refer to as scripture based crosses. For more information about these crosses have a look at our Celtic Cross Meaning page.
Most of the crosses in this first gallery are from the Gaelic Ireland and Scotland.
And when you have had a look don't forget to have a look at our Celtic Cross Jewelry pages for some personal inspiration or to treat yourself or someone you love!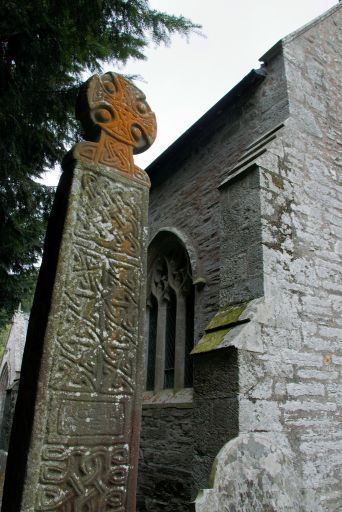 Nevern Cross, St David's Cathedral Wales -photo courtesy of Phil W Shirley

St John's Cross, Iona, Scotland. May be first cross with a ring -photo courtesy of Kiltbear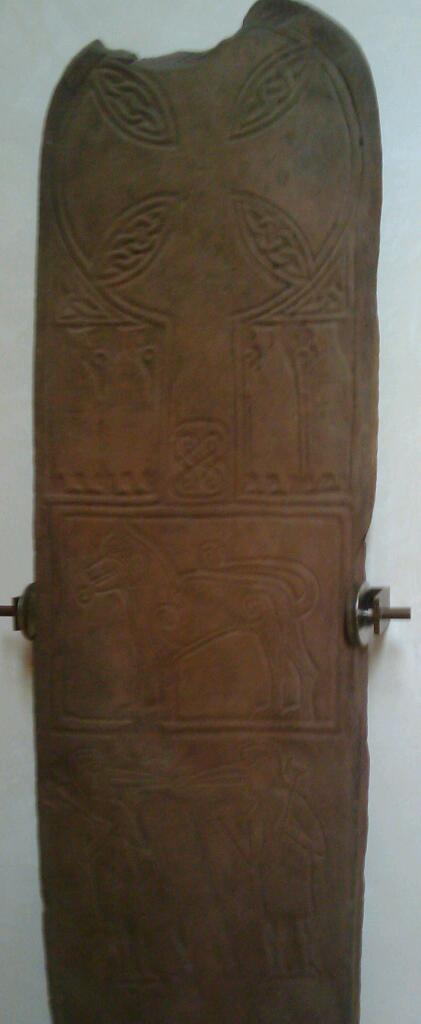 Mixing of Christian and Druid themes Iona (?), Scotland -photo courtesy of David Flanders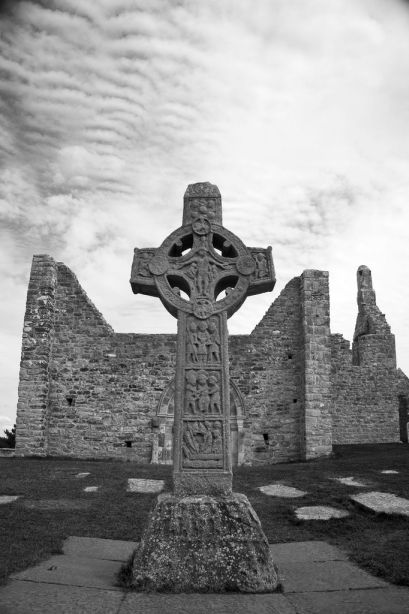 Clonmacnoise, Co Offaly - Scriptural High Cross Original site but replica (original kept nearby) -photo courtesy of Enrique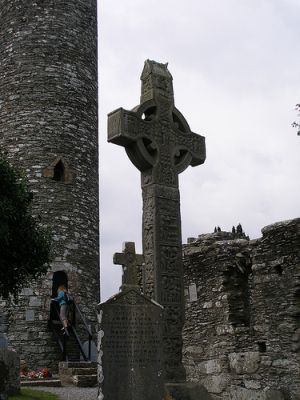 Monasterboice Co Louth - Irish High Cross Biblical scenes with zodiac at base-photo courtesy of Bernd Bragelman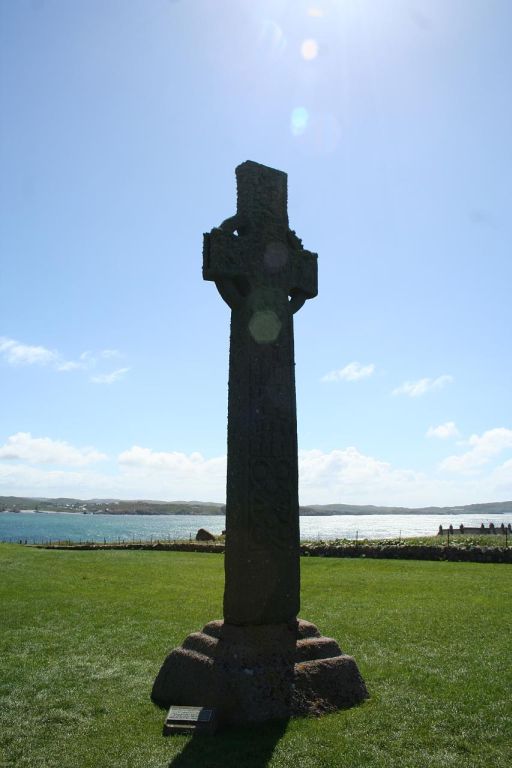 9th or 10th Century, St Martin's Cross, Iona, Scotland-photo courtesy of vegansoldier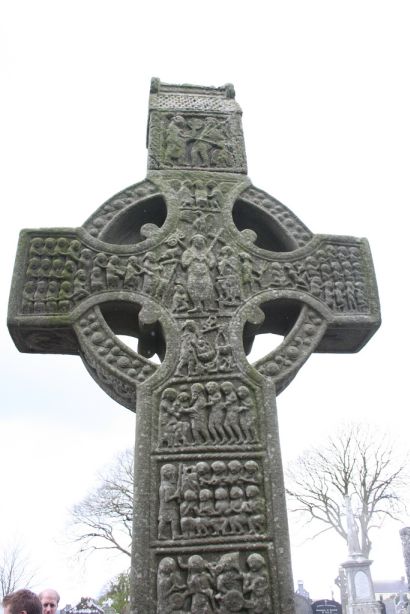 Good shot of Celtic Cross pattern, Monasterboice, Co Louth-photo courtesy of wmshc_kiwi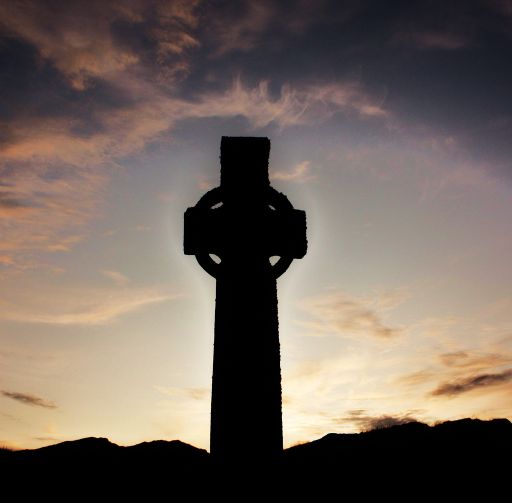 Another beautiful one of St Martin's Cross, Iona -photo courtesy of Jemassmith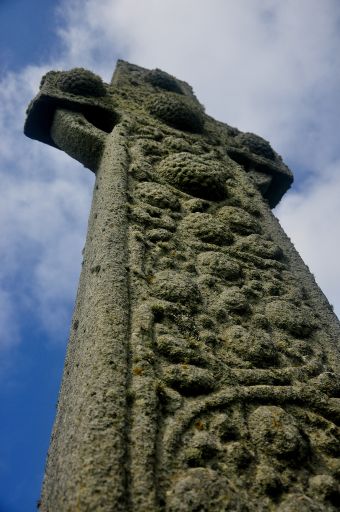 High Cross, Iona, Scotland Ray Lathwell

---
Celtic Crosses Images and Patterns

The Celtic Cross images and patterns below are memorial crosses, not considered to be authentic High Crosses. Most of the real High crosses were erected more than 800 years ago. However, in the middle of the 1800's, Celtic crosses became fashionable again and were used as tombstone crosses or headstone crosses or indeed for many other different types of memorials. The Celtic crosses that you may see in cemeteries or graveyards all over the world are of this type.
While many of the original high crosses are now in poor condition, many of the celtic cross patterns and designs on these memorial crosses are elaborate and beautiful and honor the Celtic tradition.
Celtic Crosses in Glasnevein
Cemetery Dublin - photo courtesy of Informatique


Celtic Cross at Glendalough, Co Wicklow-
photo courtesy of Magic_bee.

| | |
| --- | --- |
| Beautiful pattern on this Cross Memorial at Glasnevin Cemetery-photo courtesy of Infomatique. | Interesting Celtic cross pattern-Iona, Scotland against beautiful sky-photo courtesy of Simaron |
| | |
| --- | --- |
| Nice cross shot in Co Kerry-photo courtesy of Cubanjunky | |
| | |
| --- | --- |
| Simple pattern with St Kevin's Round Tower, Glendalough -photo courtesy of fwiffo | Nice Celtic cross design, Iona, Scotland-photo courtesy of Sarniebill1 |
---
Pages Related to Celtic Cross Images

Celtic Cross Jewelry to inspire you and to treat yourself or someone you love!
In order to understand something of the origin and tradtion of the Celtic Celtic cross, check out the Celtic Cross Meaning page
Learn about another great Gaelic symbol on our Irish Shamrock page.
---
Gaelic Matters
> Celtic Cross Images
---