Gaelic Matters
> Irish Pub Culture
Irish Pub Culture - more than drinking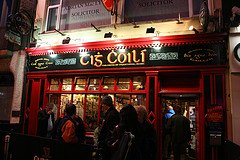 The Irish Pub Culture - still strong
Irish Pub Culture and Irish Pub Life is a much talked about subject at home and abroad. While the number of pubs in Ireland is falling dramatically because of the current economic crisis, a smoking ban and changing lifestyles, the pub as an institution remains an important part of Irish tradition. Below is an introduction to Irish pubs and pub etiquette in Ireland.
Background to Irish Pub Culture

For all its fame and excesses, the best part of Irish drinking pub culture is the social aspect. Traditionally, the church, pub and the local football club were the three main social outlets for people in rural Ireland. The pub had the habit of following the other two. By that I mean that people went to the pub after Mass or after a football match. The pub was where the village met, stories were exchanged and the 'craic' (fun) was had.
Irish people rarely drank at home until recent years, because the social aspect was a vital part of enjoying alcohol. The atmosphere, warmth and friendliness of Irish pubs is such that the idea has been exported around the world. There is hardly a city anywhere on the planet that does not have at least one, if not several, Irish pubs.
While it is hard to put a value on the contribution of the pub to the social fabric of Ireland, it is just as hard to measure or ignore the fact that a lot of alcohol consumption can be over the top in Ireland and binge drinking is all too common. Nevertheless. enjoyed sensibly with good company, a social drink in an Irish pub among friends or friendly strangers, can be hard to beat.
Irish Pub Life - Information, Tips and Etiquette

Origin of Word Whiskey

The word whiskey comes from 'uisce beatha', meaning 'water of life' in Irish Gaelic. Scottish people spell whiskey without the 'e', 'whisky'. While there are hundreds of Scotch whiskies there is a much smaller number of Irish ones, the most well known being Jameson and Bushmills.

Pint Drinking in Ireland

If you simply ask for 'a pint' in an Irish pub, you will be given a pint of stout, the black beer called Guinness. However, in Cork, Murphys or Beamish are more common stouts than Guinness.
While common in England to ask for a half as a 'half pint', in Ireland the term is a 'glass', so you may ask for a 'glass of Guinness'
A common beer or ale in Ireland is 'Smithwicks' (which you pronounce 'Smithicks') which a lot of my foreign non Guinness drinking friends prefer.
Perfect Pint of Guinness

It can take about three minutes to pull a pint of Guinness, so be patient. Also allow your pint to completely settle before drinking. You look like a complete novice Guinness drinker if you don't.
Guinness just tastes much better in Ireland so worth trying there. And if you have never had Guinness before, don't judge it on the first one. It can be an acquired taste, so have at least two.
Calories in a Pint of Guinness

While people often describe Guinness as having 'both eating and drinking' in it, a pint of draught Guinness has about 170 calories which is similar to beers such as Budweiser or Carlsberg.
At 4.2% alcohol, it is not as strong as many other beers despite its reputation.
Ordering a Drink in Ireland

You pay for drinks after receiving them unless you are ordering food at the same time. It's a normal part of Irish pub culture for a barman will expect to be paid after he gives you a drink or round of drinks, so to stay on his good side, have the money ready. But don't make a big display of showing your money to all either - nothing annoys Irish people so much as someone showing off.

Tipping in Irish Pubs

You generally do not tip barmen in Irish bars but if there are waiters, often called lounge girls or lounge boys, tip them occasionally. Don't expect to find waiting staff in small or country pubs. You may have to go to the bar to order.
While in England it is customary to pay for an occasional drink for the barman, in Ireland it is much less common.
Irish Round System

If you are in company, it is customary for each person to buy a round of drinks. This round system is still a very strong part of Irish pub culture but if the group is very large, it is also increasingly common to split into small groups of three or four for the purpose of buying rounds. It's common to hear the expression 'Whose round is it?' or 'It's my round'.
If you do not feel like another drink, then don't skip when it's your own time to buy. Do it on someone else's round. Leaving the pub before buying your round can be considered "bad form", depending on the company you are in. You will get away with it once but it will be frowned upon at best after that.
Don't try and keep up with round system if you don't feel like drinking anymore. Most people are understanding and you shouldn't feel pressured to keep on drinking though you may have to put up with a little slagging (teasing). For that reason, however, it's a good idea to buy your round early!
Irish Pub Culture Experience

It's common to begin a chat with the barman, the guy beside you in the pub or even with the stranger standing beside you at the urinal in the toilet (restroom).
Yes, Irish people do not say 'bathroom' except in a house and do not use the word 'restroom' at all. Very occasionally you will hear the word 'lavatory' but the word 'jacks' is particularly common around Dublin.
Sunday afternoon is a common time to see a Gaelic football or Hurling match on TV in an Irish pub. It can be a very passionate affair particularly in the middle of summer as the All-Ireland Championship gets in to full swing.
'Slagging' is a big part of Irish pub culture. It really means making fun of someone and can be hilarious at times. Occasionally it can seem very close to the bone. Listen rather than participate but if you become the victim, remember that most of the time the aim is not too offend but to have fun, so just laugh it off.
If you offer to buy someone a drink, it is polite in Ireland to reply 'Ah, no' even though a person may be dying to accept. So you may have to offer at least twice if not two or three times.
Ireland's No Smoking Ban

While the smoky Irish pub is a much exported image, it is no longer a part of Irish pub culture. Since 1997, there has been a smoking ban in almost all public buildings. The law is respected (surprisingly) almost everywhere. Hence, Irish pubs now often provide a sheltered area for people to smoke outside.
It is also quite common to see a group of smokers standing in front of a pub smoking. If you are a smoker, you can take it as an excuse for chatting to strangers as you light up.
Pages Related to Irish Pub Culture

If you are going to really participate in Irish pub culture, arm yourself with some great Irish Toasts.
Find out about the best Irish whiskey brands and a little of the history of 'uisce beatha'
And we have created separate Irish Birthday Toasts and Irish Wedding Toasts pages where you will find lots of other great and free Irish toasts to celebrate special occasions with.
---
Gaelic Matters
> Irish Pub Culture
---