Gaelic Matters
> George Bernard Shaw Quotes
George Bernard Shaw Quotes
This collection of George Bernard Shaw quotes from the prolific Irish playwright will bring a smile to your face, not only because they are funny but because the wit is their wisdom.
A little background on G B Shaw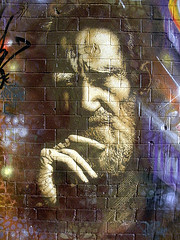 "Patriotism is your conviction that this
country is superior to all other countries
because you were born in it."
-photo courtesy of duncan
George Bernard was born in Dublin 1856. His mother was a mezzo-soprano and his father, a grain trader, was a drunkard. Because of this, unlike many other Irish writers, Shaw abstained from alcohol all his life.
His mother left the family home to work in London as a music and singing teacher and Shaw was brought up mostly by servants. In 1876, Shaw left Ireland to join his mother and sister in London. He did not return to Ireland for thirty years.
Shaw wrote five novels early in his career without much success. His interests were varied and he was both a vegetarian and socialist. His first real success as a playwright came with an American showing of The Devil's Disciple in 1897. Other successes followed with John Bull's Other Island(1904), Man and Superman(1905). His play Pygmalion (1906) became the successful musical comedy My Fair Lady.

Shaw wrote more than 60 pays. His work deals with a lot of serious social problems but with a comic touch. There are inciteful and George Bernard Shaw quotes on themes such as education, marriage, religion, government, health care, and class privilege.
Shaw was given the Nobel Prize for Literature in 1925.
Funny George Bernard Shaw Quotes

Put an Irishman on the spit and you can always get another Irishman to turn him
****
A fashion is nothing but an induced epidemic.
****
A doctor's reputation is made by the number of eminent men who die under his care.
****
I'm an atheist and I thank God for it.
****
Life does not cease to be funny when people die anymore than it ceases to be serious when people laugh.
****
If history repeats itself, and the unexpected always happens, how incapable must Man be of learning from experience.
****
Patriotism is your conviction that this country is superior to all other countries because you were born in it.
****
The liar's punishment is not in the least that he is not believed but that he cannot believe anyone else.
****
Martyrdom is the only way in which a man can become famous without ability.
****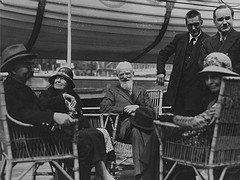 "England and American are two countries
shared by a common language"
Shaw (centre) and wife (left) 1932
-photo courtesy of LSE Library
Hell is full of musical amateurs.
****
Democracy is a device that ensures we shall be governed no better than we deserve.
****
Reading made Don Quixote a gentleman. Believing what he read made him mad.
****
England and America are two countries separated by a common language.
****
There are two tragedies in life. One is not to get your heart's desire. The other is to get it.
****
I can forgive Alfred Nobel for having invented dynamite, but only a fiend in human form could have invented the Nobel Prize.
****
Youth is a wonderful thing. What a crime to waste it on children.
****
If all economists were laid end to end, they would not reach a conclusion.
****
The power of accurate observation is commonly called cynicism by those who have not got it.
****
The worst sin toward our fellow creatures is not to hate them, but to be indifferent to them: that's the essence of inhumanity.
****
All great truths begin as blasphemies.
****
When a stupid man is doing something he is ashamed of, he always declares that it is his duty.
****
My way of joking is to tell the truth. It is the funniest joke in the world.
****
The reasonable man adapts himself to the world; the unreasonable one persists in trying to adapt the world to himself. Therefore, all progress depends on the unreasonable man.
****
When a thing is funny, search it carefully for a hidden truth.
****
Gambling promises the poor what property performs for the rich-something for nothing.
****
Beauty is all very well at first sight; but who ever looks at it when it has been in the house three days?
****
A life spent making mistakes is not only more honorable, but more useful than a life spent doing nothing.
****
He who can, does. He who cannot, teaches.
****
I am a typical Irishman; my family came from Yorkshire.
****
Americans adore me and will go on adoring me until I say something nice about them.
****
PICKERING: Have you no morals, man?
DOOLITTLE: Can't afford them, Governor.
(from Pygmalion)
****
Pages Related to George Bernard Shaw Quotes

If you're looking for other witty quotes, start at our Funny Irish Quotes Page or go directly to these quotations from other Irish Literary Greats.
Spike Milligan Quotes
Brendan Behan Quotes
Oscar Wilde Quotes
Flann O Brien Quotes
Also check out our Funny Irish Sayings page.
---
Gaelic Matters
> George Bernard Shaw Quotes
---